NAIC Committee Adopts Proposed Revisions Related to Captives, Financial Summit Underway
Part A: Laws and Regulations Accreditation Preamble Tuesday on a conference call.

The proposed revisions would add certain captive insurers and special purpose vehicles (SPVs) into the accreditation program. Specifically, the revisions would include regulation of those captives and SPVs that assume XXX or AXXX business, variable annuities and long-term care business. Currently, regulation of these types of companies is not included in the program's scope.

"This is a critical step forward in the NAIC's work related to the transparency of information and consistency of treatment for these types of captive insurers," said NAIC President-Elect and Missouri Insurance Director John M. Huff, who also serves as the Chair of the F Committee. "I look forward to continuing our work to strengthen the accreditation program."

2015 Financial Summit

More than 500 state regulators, consumer advocates and industry professionals attended the NAIC's 2015 Financial Summit in Kansas City, Mo. Adam Hamm, NAIC Immediate Past President and North Dakota Insurance Commissioner, hosted the opening session, which addressed cybersecurity in the insurance industry. The annual summit runs from May 27 through May 29.

2015 International Insurance Forum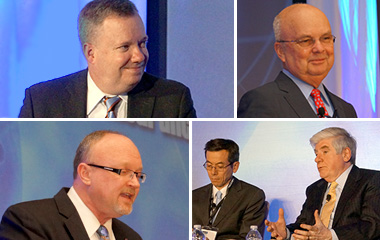 The 2015 International Insurance Forum kicked off today by exploring developments and progress in international insurance regulation in the context of the global financial services markets. Leaders from the NAIC gathered to discuss global insurance matters including panels on cybersecurity, governance and group supervision. The forum attracted nearly 300 attendees including regulators from 20 jurisdictions, representing about 90 percent of global insurance premium. The forum continues tomorrow with panels on international standards and crisis prevention.


International Insurance Forum Focuses on Key Issues
Cybersecurity, Crisis Prevention, Global Insurance Standards on Forum Agenda
Monica J. Lindeen, NAIC President and Montana Commissioner of Securities and Insurance, opened the forum Thursday morning with a welcome. The attendees include regulators from about 20 jurisdictions, representing about 90 percent of global insurance premium. Panel participants and attendees for the forum, which is in its ninth year, also include consumer groups, industry and academia.